Audio Mixer
From AVObjects Knowledge Base
This page is a copy of the original page on the AVObjects' web site and can also be viewed here. DirectShow filter for real-time mixing of multiple mono, stereo or multichannel audio streams.
Overview
The Audio Mixer DirectShow filter mixes any number of mono, stereo or multichannel PCM or float streams with 8 to 32 bit depth with unlimited flexibility.
Features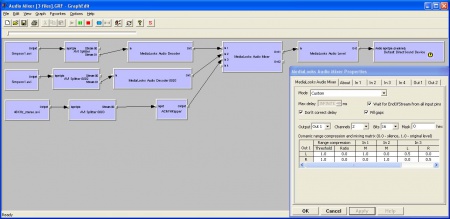 Real-time mixing.
Up to 64 mono, stereo or multichannel (up to 32 channels) input or output pins.
From 8 to 32 bits per mono audio sample for any input and output stream.
Unlimited mixing flexibility: any channel from an input pin can be mixed to any channel of an output pin with user-defined bit depth.
Dynamic range compression to eliminate volume overflow (more information on Wikipedia).
Seeking support.
Specifications and description of user interfaces can be found in the .idl file in the \Idl folder of the filter installation directory.
Supported Content
Input/output format: simple (WAVE_FORMAT_PCM), multichannel (WAVE_FORMAT_EXTENSIBLE) or float (WAVE_FORMAT_IEEE_FLOAT) Audio.
Audio frequencies must be the same for all input and output streams.
Future Extentions
Resampling (connections with different audio frequencies will be allowed).
See also
Action Items
Prices